Longboat Key Condos for Sale
Are you planning to buy a condo on Longboat Key? If you're considering a move to the beautiful coast of Longboat Key, Florida, there are plenty of options to consider. Besides the lack of outside maintenance (a big consideration if you're a retiree or looking for a vacation home), Options come in a range of styles with amenities and locations to suit any preference.
Longboat Key Condos
February 6, 2023
With their year-round appeal and proximity to great entertainment, shopping and activities, Longboat Key condominiums are truly for anyone who likes to merge relaxation with exhilaration.
This private island paradise combines small-town warmth with the fun of city life nearby. For the condo owner, the area offers a chance to enjoy amazing living experiences. Up-to-date, stylish condominiums line the pristine beaches and the bay. Some high-rise condos offer views of the deep blue Gulf of Mexico from one window, and a thriving downtown skyline from another!
Depending on your needs and wishes, you can choose from condominiums that offer extensive amenities, including state-of-the-art workout facilities, conference centers, valet services, maid services, spas and resort-style pools.
Real Estate Prices
Beach condos start at approximately $225,000 and go up to almost $5 million for a luxury community with top amenities. Buildings offering bay-front views currently go up to approximately $3.5 million.
Type of Properties
Single Family Homes
Condos
Town Houses
Villas
Weather/Location
Longboat Key easily accommodates the area's relaxed, enjoyable lifestyle. As a barrier island, it is a "strip of Paradise" stretching 11 miles up the Gulf Coast, and your enjoyment is enhanced by just a short drive to the attractions in Sarasota and Bradenton. The condo lifestyle is ideal for this location - you can live in comfort year round, or have the condo ready at your convenience, secure in the knowledge that your building association will handle the upkeep while you're away.
Even the weather here is focused on your comfort. Winter rarely reaches beyond "light jacket" temperatures between 51 and 72. Spring and autumn bring mild winds up the coast, with highs near 80. By July, Florida's famous summer is a great excuse to hit the beach, where the waters of the Atlantic have been warmed to perfection.
Things to Do
No matter what you like to do or see, you'll likely find it in and around the island. For golfers, the Resort at Longboat Key Club delivers world-class greens that have earned Golf Digest 's "Best Places to Play" award. If tennis is your game, 20 Har-Tru tennis courts beckon you for a casual game or tournament play.
Take the kids and grandkids for a day at the nearby animal parks and aquariums, or just enjoy a day at the beach. When night falls, St. Armands Circle, just a mile to the south, adds a new dimension with a wide range of casual and upscale dining, jazz, theater, dancing and more, all within minutes of your condo.
Discover Condo Living
Whether you're looking for a condo on Longboat Key or Sarasota, FL real estate listings, we can help. For comprehensive, confidential services, contact our real estate team. With our extensive experience serving the Sarasota area's most discriminating homebuyers, we are prepared to accommodate your schedule, location and expectations with the goal of matching you to your ideal condominium.
Photo Gallery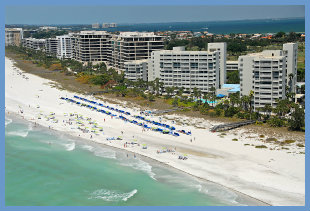 Browse Longboat Key Condo Communities