Lakewood Ranch Real Estate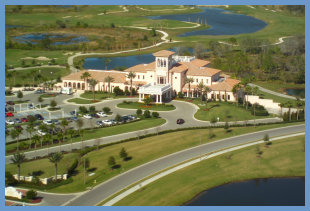 Close your eyes and imagine the thwack of a golf ball being driven onto a world-class green or the thunderous hoof beats of polo ponies battling for a goal. Breathe in the scent of tropical flowers in a nearby park or the aroma of fresh-brewed coffee on Main Street. Feel the warm Gulf Coast beach sand beneath your feet.
Now open your eyes … and take in the beauty that surrounds the Lakewood Ranch, Florida real estate market.
Lakewood Ranch
June 1, 2023
Why Choose Lakewood Ranch?
Lakewood Ranch is where you can take pride in your home and community. The Gulf Coast's premier master-planned residential and commercial development is also the largest green-certified community in the United States, making Lakewood Ranch, FL a place where you can breathe easier in every sense of the word.
Top-tier amenities abound. Choose weekly programs and events organized by the town to help residents enhance their personal and professional lives.
All the while, you'll enjoy the comfort and convenience that come with Lakewood Ranch real estate. Select from the finest collection of move-in-condition homes and condominiums ready for your personal touch.
Range of Prices for Lakewood Ranch, Florida Real Estate
Summerfield and Greenbrook Village offer single-family homes starting in the high $100,000s, and buyers can find affordable homes in the maintenance-free section of the Country Club starting in the $300,000s. In the newest community, Belleisle Country Club, new homes start in the mid $200,000s. For complete resort-style living, the estate homes of the Club begin in the high $900,000s and go up to $2,550,000 in the Lake Club and $16,500,000 in the Concession.
Types of Inventory
Single-family homes, town houses and condominiums of various designs are available in the Villages of Lakewood Ranch. There are neighborhood communities, parks and multiple amenities available for a variety of lifestyles.
Location/Weather
Founded in 1995, Lakewood Ranch is an 8,500-acre planned community of nine villages located along southeastern Manatee County. Named "best neighborhood" by Sarasota Magazine, Lakewood Ranch is within easy reach of Tampa Bay, Sarasota and Bradenton, and convenient to three airports. Shopping, dining and entertainment are never far away, with ample choices that accommodate everything from a casual get-together to an elegant night out.
A temperate and consistent climate makes Lakewood Ranch a desirable destination. Like its neighbor Sarasota, the weather in Lakewood Ranch, Florida ranges from highs in the low 70s Fahrenheit during the winter to the upper 80s at the height of summer – perfect beach and boating weather.
Lows rarely touch below 50 at any time of year, so you can leave those winter coats behind when you move.
Things to Do in Lakewood Ranch
If recreation and the outdoor lifestyle appeal to you and your family, Lakewood Ranch is perfect for vacation homes, retirement destination or relocation. Half of the land is set aside as open or recreational space, and the choices suit just about any preference.
More than 150 miles of trails make for relaxing casual strolls or challenging runs; 54 holes of championship, private golf means that tee time is virtually anytime. Tennis is a way of life here, with a deluxe tennis center offering lessons, coaching and tournament play.
Unexpected pleasures also abound at Lakewood Ranch. The community is a polo hotspot, and the Sarasota Polo Club is a great place for everything from picnics with friends to pony rides for your children and grandkids. You can also discover the fun of cricket at the Sarasota International Cricket Club.
Then, kick back at one of Sarasota, FL's beaches, and reflect on your day as the sun sets over the Gulf.
Find Your Dream Home
Lakewood Ranch real estate is renowned for its diverse choices. These top-quality residences are represented by our outstanding real estate team. As Sarasota-area specialists, we are dedicated to helping out-of-town and relocating clients find the homes and condominiums best suited for their lifestyles. You can count on each REALTOR for fast, confidential and results-oriented real estate services. Contact us today for additional information or a private showing