Towles Court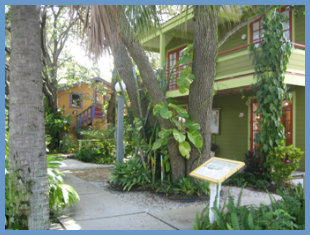 Downtown Sarasota Homes for Sale
The Towles Court neighborhood, an artist colony in Sarasota, Florida is enchanting, sprinkled with colorful and charming buildings. Many of these residences were built in the 1920s and have historical designations as do many of the homes in adjoining Laurel Park. Residents in this popular inner city neighborhood can sometimes live and work at home. You'll find cottages, galleries, and a selection of choice restaurants in this downtown Sarasota neighborhood.
Designers, entrepreneurs and investors love the older buildings of Towles Court. Many have been renovated by adding designer touches in kitchens, bathrooms and tropical walk-through gardens. This beautiful artist community is a "must see" for convenience and location, location, location as it is close to the downtown commercial district, shops, entertainment, hospitals and world-class beaches.
Highlighting the area are delightful homes surrounded by walking paths through tropical foliage. Outdoor sculptures can be viewed on a morning or evening stroll. Be sure to stop by one of the many restaurants and have a patio lunch.
Below are all of the real estate listings currently available for sale in the Towles Court area of downtown Sarasota. Check out your options and
call or email us
if you would like details on any of these properties.
Towles Court
June 1, 2023
Neighborhood:
Washington Park
Did your stock portfolio get killed in 2022? Yep, mine too. What we should have done is buy a boring cash flowing asset, in a prime location. Something that doesn't have any differed maintenance,...